Marketing and Promotional Concepts
Marketing and Promotional Concepts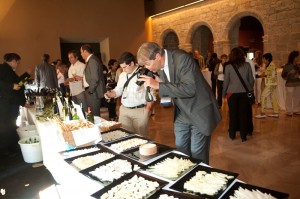 Starting with the client's initial guidelines, Food Consulting designs projects centred on the marketing and promotion of Spanish food products, then organises and efficiently manages them.  Often our projects are focused on significant sectors such as olive oil, Iberico products, wine, cheese…., ranging from generic products at the national or regional level to quality trademarks (Designation of Origin, etc) through to private sector brands.  We approach our projects from perspectives in line with international trends in the culinary world and quality products prevalent at the time.  We take great care with all aspects of design in the media and we strive to achieve a positive image and high visibility, while conveying a message of quality, expertise and good practice.  Some of these projects are linked to participation in major food trade fairs such as Alimentaria, Anuga, SIAL…. Others are  standalone events held in Spain or other countries.  We can summarise as follows:
Conceptualisation and organisation of events
from the client's briefing we create a tailor-made promotional concept which is then developed through one or more interconnected activities in line with  variables of space, organisation, budget, time,  corporate involvement, brand presence, etc.  All of the above form part of the event, and we will deal with its organisation right down to every last detail.
TASTE & FLAVOURS for the Alimentaria Exhibitions trade fair, where we handled  the conceptualisation and organisation of floorspace and promotional activities such as the Food Pairings Restaurant, the Wine Tasting Area in Vinorum, the Olive Oil Tasting Bar along with Seminars and Tastings Read more
Promotional activities at national and international trade fairs:
Entertainment activities for professional recreation within the framework of institutional participation in trade fairs, with the aim of raising awareness of specific products and generating trade in the corresponding Pavilion
Gourmet Olive Oil Bars and The Andalusian Dressing Area in the Andalusia Pavilions run by EXTENDA (Andalusian Agency for Foreign Promotion) at the SIAL and ANUGA international trade fairs Read more
Organisation of diverse Promotional and Public Relations Activities 
in different contexts, at both the national and international level, such as:
Showrooms for producers
with international buyers, including presentation, contact management, leaflets, etc.  The aim is most often that of facilitating business contacts by creating a professional atmosphere and enabling participating companies and their products to have access to new business environments
Tastings, presentations and workshops 
for specific products, for both quality standards trademarks and commercial brand names 
Promotional competitions based on Spanish food products and/or gastronomy
We design and participate in promotional projects such as competitions or incentive schemes aimed at industry professionals, often at the international level.
Other tailor-made projects, based on our experience and according to the client's needs